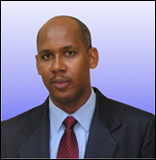 Ernest W. Smith has a Bachelors of Science Degree in Electrical Engineering (1985) from the University of the West Indies, St. Augustine. As the recipient of a Commonwealth Scholarship in Engineering, he pursued further studies and was awarded a Masters of Engineering Degree in Engineering Management from the University of Ottawa. He also holds a Masters of Engineering Degree in Engineering – Regulatory and Policy (Telecommunications) from the University of the West Indies, St. Augustine. He is also a Certified Energy Manager (CEM) as certified by the Association of Energy Engineers (AEE) of the USA.
Mr. Smith's formal education also includes industry specific training in Electric Power Engineering and Management at the Swedish State Power Board in Stockholm, Sweden; as well as New Technologies and Policy Trends in ICT1 at Waseda University, Tokyo, Japan. Ernest is also a graduate of the Senior Management Programme in Telecommunications at TEMIC2, Montreal, Canada.
During his career as a Professional Engineer which spans over 24 years, Ernest has garnered a rich array of knowledge and developed his expertise in areas such as:
Electric Power Systems – Transmission & Distribution Power Design

Energy Conservation & Efficiency – Energy Audits and Implementation of Energy Conservation Measures

Telecommunications and Policy Development – he is considered a subject matter expert in Radio Frequency Spectrum Management

Project Management – demonstrated capability to manage large projects or groups of projects

Organizational Design and Start-Up – he established the Spectrum Management Authority from its conceptual profile and developed the organization into the most modern spectrum management agency within the Caribbean

Negotiation and Contract Administration – highly developed negotiating skills and expertise in contract preparation and management

Systems Engineering – formal training in Reliability & Systems Engineering and has developed the expertise to conduct fault analysis for major technical systems. He has been the Lead Investigator and thereafter the Chairman of the Board of Enquiry into all-island JPS shutdown incidents.
He worked with the Jamaica Public Service Company Ltd. (JPSCo.) for fifteen years in a number of capacities including that of Director of Engineering and has been Project Manager for several power systems expansion projects funded by multilateral funding agencies. In 1999 he designed and established the company's first Energy Loss Reduction Division and led its operations aimed at reducing Technical and Non-technical losses with a team of approximately 180 persons.
Ernest was recognized for his professionalism by being included in the Year 2000 Edition of International Who's Who of Professionals.
Mr. Smith was employed as the Managing Director of the Spectrum Management Authority of Jamaica in 2001 and developed that organization from its conceptual profile into the Caribbean's leading spectrum management agency. He led this organization during the period 2001 – 2008 which saw the most explosive growth in mobile wireless communication in this region after the liberalization of the Telecommunications industry in 2000.
1ICT: Information Communications Technologies
2TEMIC: Telecommunications Management Institute of Canada